Whether or not they love the water, these fellows take the plunge for worthy causes.
In June 2011, Photon Sciences engineer John Gosman did a 28.5-mile swim around Manhattan to raise funds for a local child with a rare form of leukemia. Last summer, he also crossed the Sound to Connecticut, swimming 15.5 miles. These are distance swims Gosman has made multiple times.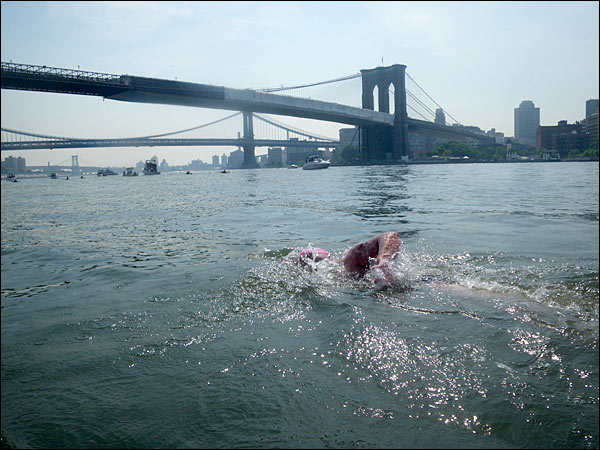 John Gosman stroking his way toward the Brooklyn Bridge
In November 2011, Photon Sciences HR recruiter Peter Esposito jumped into the Long Island Sound to raise money for Special Olympics. The air temperature was in the low 40s and the water temperature about 42 degrees F. This was a first for Esposito, who is now committed to the event every year. "It's simple, easy and for a good cause," he said. The crowd of about 175 raised $75,000 for Long Island Special Olympics.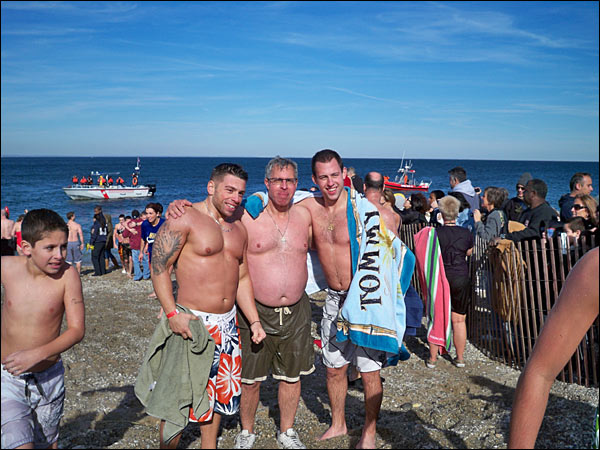 From left, Matt Foley, Peter Esposito and Michael Esposito
And on New Year's Day, Photon Sciences engineer Nick Simos plunged into the Sound to help the same local child and in memory of a good friend at the Lab, Aristodimos Philippacopoulos, who lost his battle with cancer. The temperature on January 1, 2012, reached into the mid-50s, and the water temperature was about 44 degrees, conditions that undoubtedly helped Simos stay in the water 207 seconds, earning a dollar a second from each of his donors. When he first committed to doing this a month ago, Simos said he was determined to weather all conditions, even if he had to chip through ice to get into the water. In fact, his publicity flyer indicated a preference for snow or ice!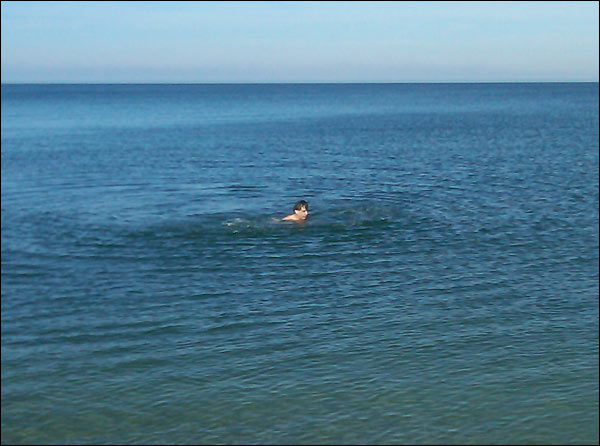 Nick Simos took the polar plunge in the Long Island Sound