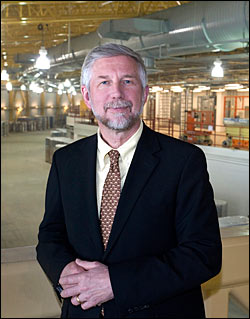 Both of Brookhaven Lab's light sources have been in the news in recent weeks.
Brookhaven issued a press release on a publication by Jun Wang and her colleagues at NSLS beamline X8C. Their paper in Applied Physics Letters describes a new transmission x-ray microscope (TXM) that stitches together thousands of images to create close ups of the tiniest objects. You may remember this microscope as the one that arrived at Brookhaven during a winter blizzard late in December 2010. As detailed in the press release, $2 million of American Recovery and Reinvestment Act funding enabled the instrument to be purchased from Xradia, Inc., a California company.
Installation and commissioning went well, and the paper reported on imaging a 20-micrometer electrode from a lithium-ion battery. Already, major corporations such as UOP and IBM have scheduled time on the TXM. The Defense Advanced Research Projects Agency, also known as DARPA, is interested in using the new microscope to probe the intricate structures of imported microchips. So while the focus of the new instrument will likely be on alternative energy fuels and storage solutions, we expect studies across a broad range.
Brookhaven also issued a press release on two construction milestones at NSLS-II – completion of the ring building and linac commissioning, thanks to the work of two companies, Torcon, Inc. and RI Research Instruments GmbH. I shared this information with you in the April eNews.
What I can report to you this month is that the celebration on April 26 was wonderful. After brief remarks, recognition of Torcon and RI, and an official photo of everyone gathered at a ribbon banner, the crowd of 400-plus surged forward to walk around the half-mile ring building. The mood was quite festive as we passed by panels just delivered for the first beamline hutch, by the first magnet girder in the booster, and by additional magnets waiting for assembly onto girders for the accelerator tunnel.
I was happy that so many in the Brookhaven community came to celebrate with us. We have a lot of support across the site, and everyone should be proud of the NSLS-II Project's achievement. You can read about the event in this issue of eNews.