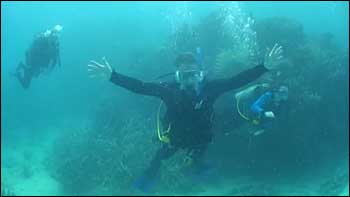 Here's Steve Dierker diving on the Great Barrier Reef this past winter (summer Down Under). In truth, Dierker was waving at the videographer, although he did see lots of sharks on the dives. "They were mostly white-tipped reef sharks, some around five-feet long," he said.
This summer, take along your camera when you go on vacation and submit your best shots to eNews for the annual vacation photo contest. The deadline is September 14; send your photos to mrowe@bnl.gov. We'll post the top three photos in the October issue of eNews.
They can be of people, places and objects, like this Potato Cod that Dierker spotted at Cod Hole, aptly named for the area's giant fish, measuring up to six feet long and weighing as much as 250 pounds.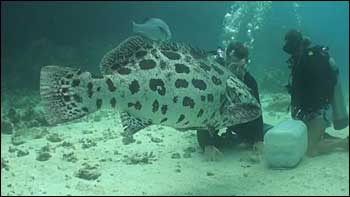 "The reef is an incredibly beautiful place to dive," Dierker reported. "The water is crystal clear, there are huge numbers of all kinds of colorful and unusual fish, and the coral formations are simply amazing."
So when you pack your bag for your summer trip, whether it is for an adventure abroad or a visit to grandparents in the next town, be sure to grab your camera and capture some memories to share.