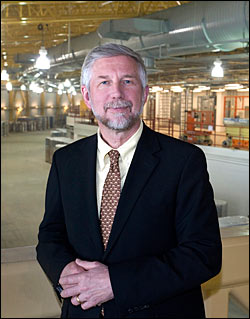 In late June, the House Committee on Science, Space and Technology, Subcommittee on Energy and Environment, chaired by Representative Andy Harris of Maryland, held a hearing on DOE user facilities.
Witnesses at the hearing included two scientists with direct ties to the Photon Sciences Directorate: Tony Lanzirotti, a long-time NSLS user from the University of Chicago, and Ernest Hall, a member of our Science Advisory Committee and Chief Scientist at GE Global Research.
Tony spoke as chair of the National User Facility Organization (NUFO). Founded in 1990, NUFO represents users who conduct research at U.S. national scientific user facilities, as well as scientists from U.S. universities, laboratories, and industry who use facilities outside the United States.
In his prepared remarks to the subcommittee, Tony said this:
"Today, our organization represents the almost 45,000 scientists who conduct research at the 46 largest federally-funded facilities in the U.S. Of these, 36 facilities are managed by DOE, representing almost 37,000 scientists each year. These users reside in all 50 states, in the District of Colombia, in our U.S. territories, and many are international scientists that travel here to conduct research using these tools. These scientists come from close to 600 universities in the U.S., roughly 7000 of them are students and post- doctoral researchers who depend on access to complete their education and train to be future scientists and engineers.
"Our community includes scientists from 400 unique companies including 45 Fortune 500 companies who often use multiple facilities in their research. These facilities allow us to study our world and our universe with efficiencies orders of magnitude higher than what is possible with smallest scale instruments at our home institutions.
"It would simply be too costly and complex today for facilities such as these to be constructed and operated by universities or industry on their own. These thousands of researchers also leverage their access to DOE user facilities to maximize their productivity. Research funded not only by DOE but NSF, NIH, NASA, DOD and private industry to name only a few.
"The tremendously broad scope of science these facilities have allowed us to address is often under-appreciated, impacting virtually every scientific fields of study both in fundamental and applied sciences."
Ernie followed with these words.
"I work with various DOE scientific user facilities that serve as good examples of these collaborative models. The basic energy sciences facility for synchrotron, neutron and electron studies of the structure and chemistry of materials provide a compelling illustration. Later this summer GE will open in its new $100 million high-tech battery business in Schenectady, New York, creating 350 manufacturing jobs at full capacity.
"One of the key technical challenges in developing our battery was improved fundamental understanding of the battery chemistry. At the National Synchrotron Light Source at Brookhaven National Lab GE scientists who are able to work with scientists from Rutgers and Brookhaven to measure the chemical processes on full operating commercial battery cells.
"This synchrotron provided access to the most advanced characterization capabilities that no one institution, university or industry could afford to construct or fully utilize. It allowed us to gain a greater understanding of our batteries, materials and systems then we could using our own instrumentation in-house and shows what can result when you match the world-class research capabilities of this facilities and our universities with an industry need."
In addition to Tony and Ernie, the other witnesses called by the committee were:
Persis Drell, Director, SLAC National Accelerator Laboratory
Stephen Wasserman, Senior Research Fellow, Ely Lilly and Company
Suzy Tichenor, Director, Industrial Partnerships Program, Oak Ridge National Laboratory
The taxpayer invests billions of dollars in these facilities, and we are proud to showcase our capabilities and achievements.
Note: You can read a complete transcript of the hearing.