This is part of a series of occasional articles featuring groups from outside Photon Sciences who are providing valuable services to the directorate.
By now it's very likely you have noticed the new Photon Sciences (PS) website, which combines the former NSLS and NSLS-II sites. That undertaking was performed by the Information Technology Department's Web Services group, who was tasked with creating a comprehensive site for the new PS directorate. But they are also responsible for plenty of behind-the-scenes work that you might not know about.
Web Services is staffed by Gary Schroeder, John Galvin, Sue Runkowski, and Chris Weaver. Together they create a wide variety of products for PS and handle numerous assorted smaller jobs.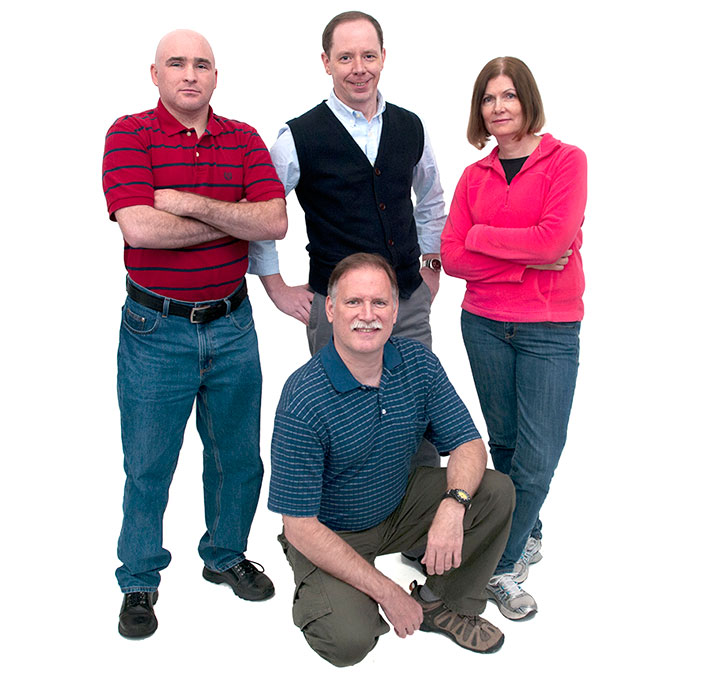 BNL's Web Services Group: (from left) John Galvin, Gary Schroeder, Sue Runkowski, and Chris Weaver (kneeling)
Much of what they do is focused on NSLS and NSLS-II user support, such as creating conference registration sites tailored to that group of users' specific needs. Right now they are developing a workshop site for a 2013 PS conference, "The Seventh International Workshop on Radiation Safety at Synchrotron Radiation Sources."
They also produce web surveys – such as to capture user feedback following a workshop or conference – and provide user support for certain software products, including SharePoint Designer, Brookhaven Lab's preferred tool for creating websites; and Indico, a conference organization tool.
The PS site is linked to the same system that allows news, announcements, and other content to post automatically to the appropriate Brookhaven directorate or department site. For example, a piece related to NSLS or NSLS-II – such as a press release on NSLS research or an article about a construction milestone at NSLS-II – will be tagged as such and appear on the PS homepage.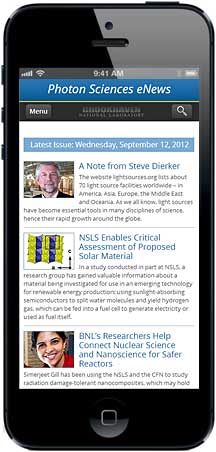 Very recently, Web Services added a modern feature to the entire "Photon Sciences News" site: the ability to recognize the type of device being used to view it and automatically alter the format to display the content clearly. Try going to http://www.bnl.gov/ps/news/ on your smartphone or tablet to see for yourself. This "responsive design" makes it much easier to read PS eNews, press releases, and other news stories from a mobile device.
"This is a state-of-the-art feature, and we think readers of the PS website will like it," said Schroeder, Web Services manager. "While these 'responsive designs' have been in place for the BNL homepage and phone directory for some time, it's only now that we are adding this to other pages down the content tree."
To date, the group's most extensive and visible project for PS is the merging of the NSLS and NSLS-II sites, www.nsls.bnl.gov and www.nsls2.bnl.gov, into www.bnl.gov/ps. This took about two and a half years from start to finish and was completed just last month (the old websites are no longer active). The PS site contains new templates and new features, and now the two synchrotron sites have a common navigational structure and the same "look and feel." And as NSLS-II grows and there is more information to post online, the group is determining how to put it there while maintaining a consistent look.
Earlier this year, Web Services conceived, designed, and built the timeline concept used to mark the NSLS 30-year anniversary, adding the timeline bar to the top of the PS homepage.
Jobs that are more routine and frequent include posting the monthly editions of PS eNews, which involves preparing images and designing the text layout, and uploading changes to the site requested by PS personnel.