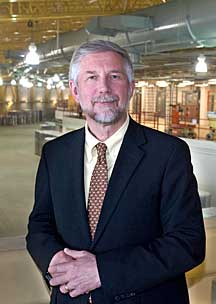 For those of you watching from afar news of Hurricane Sandy passing over the Mid-Atlantic region, the pictures and videos were pretty grim. Fortunately, I can report that the outer bands of Sandy brought wind gusts just under 71 mph and less than an inch of rain to the Upton site. Under those local conditions, both NSLS and NSLS-II had no trouble weathering the storm.
While we were fortunate on site, many of us were not so lucky at home, especially those who live farther west or on the shore, where conditions were much more severe. Now, two weeks after the storm, things are starting to get back to normal.
In October, Satoshi Ozaki and I hosted a thank-you luncheon for the groups working on NSLS-II storage-ring magnets – from design and procurement through assembly and installation. We have had quite a journey with these magnets. Along the way, Satoshi assumed leadership of the NSLS-II magnet team. With his management expertise and with everyone pulling together, the bumps smoothed out and our path is now clear to the installation of the final girder.
Storage ring magnets come from six manufacturers in six different countries:
Buckley Systems Ltd, New Zealand
Budker Institute of Nuclear Physics, Russia
Danfysik, Denmark
Everson Tesla Incorporated, US
Institute of High Energy Physics, China
Tesla Engineering, UK
Here are stats as of last week:
Total number of magnets ordered: 843
Total manufactured and shipped: 843
Total received to date: 842
Total en route from manufacturers: 1
Accepted after inspections: 93 percent accepted for installation
Multipole field quality: ~99 percent of field harmonics fall within project specifications
In August, we installed the 75th magnet girder in the NSLS-II storage ring, marking the halfway point in installation. As of yesterday, 119 out of the total 150 girders are now lined up around the ring. We are making good and steady progress.