Knowing smiles, quick nods and warm chuckles from the audience punctuated the talks at the daylong symposium at Brookhaven National Laboratory on October 20, 2014, in memory of senior physicist Sam Krinsky, who died on April 26, 2014.
Associate Laboratory Director for Photon Sciences Steve Dierker opened the program by describing Krinsky as a major driver for turning the National Synchrotron Light Source (NSLS) into a major user facility. "Sam's legacy lives on, not only by his own critical contributions to accelerator physics but also in the many people he trained," said Dierker.
Other speakers echoed that sentiment. "He is #1 among my heroes," declared John Galayda, SLAC National Accelerator Laboratory, who said Krinsky was a paragon of scientific achievement, scientific integrity, and management based on ethical standards. Galayda also spoke of Krinsky's exemplary balance of career and family priorities.
James Safranek, another speaker from SLAC, had reached out to a dozen other scientists that Krinsky had mentored. Safranek shared their statements of gratitude and respect, showing the power of Krinsky's ability to inspire and guide young people.
In recounting the years of NSLS design and construction, Bob Crease, Stony Brook professor and Brookhaven Lab historian, used an analogy of a handyman car. "Everyone had known the $24-million proposal figure was far too little to build a good machine. Better to have it than no car at all, and if you can somehow get one on the cheap, you can use it while slowly putting in better parts as you can afford them," he said. "But it was a philosophy with grave risks."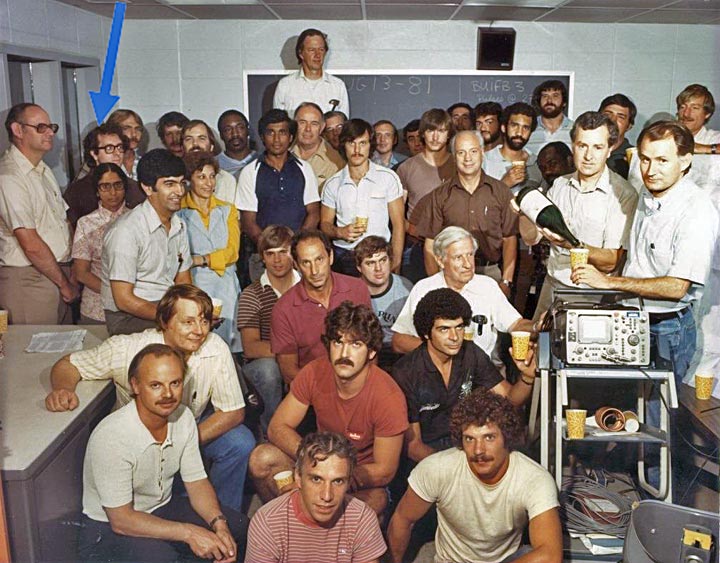 Sam Krinsky (indicated) and other NSLS staff members on the occasion of the first turn of beam around the VUV Ring, 1981. Many of those pictured still work at Brookhaven Lab.
Crease noted that Sam emerged as the ringleader in the heroic effort to bring the machine to life. "What's noteworthy is not only his analytic and technical abilities, but also his personal leadership, his ability to extend and elicit trust in those who worked with him," said Crease.
Krinsky died of glioblastoma multiforme, 20 days after his diagnosis. While he was able, he asked his wife Faith to record his thoughts. Speaking about the years of designing and constructing NSLS, he named Richard Heese, assigned to work on the NSLS linac, and John Galayda, on the NSLS booster. Krinsky himself had the x-ray ring. All three were recent arrivals at the Lab. Here are some of Krinsky's words about that time:
"There were technical problems, but there were probably much more difficult people issues. And together, we were very young, but in the end it worked very well."
"We had an energy and a drive to just say this had to work . . . for our lives, our careers, we had to earn a living. And also our pride."
"If young people are allowed to do what's sensible, what they know, then things will work out."
During a break in the program, Faith Krinsky gave her perspective of those early NSLS years. "On June 6, 1983, I was in labor. Sam had to give a talk. He was fighting for the life of this machine. He called and said I couldn't have that child until after 4 p.m. He came home at 5 p.m. and Sylvia was born at 10." For emphasis, she added, "In 1978, on November 14, right after groundbreaking, our son Ben was born."
Speaker Erik Johnson, deputy for construction in Photon Sciences, said, "Sam was remarkable at integrating his experience across disciplines and leading us to useful science." Johnson's first slide was a view of the Brookhaven campus showing various facilities where Krinsky had worked during his 41 years with the Lab. As Johnson put up his last slide, a photo of NSLS-II, he commented, "This is the street where we live. It's populated by the people who helped build it, and Sam helped teach us how to build it." Then Johnson broke into song: "I have often walked down this street before . . ."
Closing words of the symposium came from Ferdinand Willeke, director of the accelerator division within Photon Sciences. "Sam had a strong influence on all critical design aspects of NSLS-II. He was an advocate for excellence in design and construction and less willing to compromise for the sake of cost and schedule. This strong advocacy for excellence and high quality is one of the important pillars of the success of the NSLS-II accelerators."
Other speakers on the program were:
Jerome Hastings, SLAC, "Small Gap Undulator Development"
Zhirong Huang, SLAC, "Understanding and Improving the Coherence of FEL light Sources"
Kwang-Je Kim, Argonne National Laboratory, "From First FEL Radiation to Blossoming of FEL Based Science"
Gennady Stupakov, SLAC, "Samuel Krinsky and his Work on Collective Effects"
Li Hua Yu, Photon Sciences, "Samuel Krinsky and the Physics of Free Electron Lasers"