Energy Secretary Jennifer Granholm Visits Brookhaven Lab
August 25, 2021
On Aug. 13, U.S. Secretary of Energy Jennifer Granholm virtually visited the U.S. Department of Energy's (DOE) Brookhaven National Laboratory. Secretary Granholm met with Lab leaders, science and operations staff, and students as she peered into world-renowned research facilities and learned about Brookhaven's transformative science initiatives, from understanding the building blocks of the universe to discovering clean energy solutions for grid-scale storage, renewables integration, and moving toward a net-zero carbon economy.
"We were honored to host Secretary Granholm for a virtual tour and discuss how the Lab delivers discovery science and transformative technology to power and secure the nation's future," said Brookhaven Lab Director Doon Gibbs. "The tour highlighted many of Brookhaven's key facilities and programs and its widespread impact—I thank everyone who made it possible."
Secretary Granholm kicked off the virtual visit by addressing Brookhaven's staff in a Lab-wide meeting.
"We are at the beginning of an extremely exciting time in America and your work at Brookhaven is leading the way," Secretary Granholm said. "Brookhaven is where scientists and engineers developed treatments for Parkinson's disease, patented the fastest mass transit technology in the world, discovered the first liquid of the early universe, and it's where the upcoming Electron-Ion Collider will live. But none of these accomplishments would have been possible without the people behind the science."
Brookhaven's 180 summer students also joined the Lab-wide meeting, which fell on the final day of their internship programs. In a keynote address to the students, Secretary Granholm encouraged them to join DOE as scientists in the future and praised their bright minds and strong passions.
In response to one summer intern's question on how young scientists can get involved in important issues, Secretary Granholm said, "When it comes to huge problems like climate change, which are not only affecting the future but are already affecting the present, everybody has unique skills and knowledge and perspectives they can contribute. So when you see something you want to change, be the change. Take initiative, stand up, and lead. Don't wait to be told. Go!"
Following the Lab-wide meeting, Brookhaven Lab leadership met with Secretary Granholm to give an introduction to the Lab and its research portfolio.
"Brookhaven is a multidisciplinary DOE Office of Science laboratory. Our overarching management principle is simultaneous excellence in science, operations, and community outreach. Excellence is driven by diversity, equity, and inclusion," Gibbs said. "Our enduring priorities are discovery science and technology, transformational user facilities, and applications of our expertise and capabilities to new opportunities. Our long-term science initiatives are in nuclear physics—toward the Electron-Ion Collider—clean energy and climate, quantum information science and technology, artificial intelligence and data science, high energy physics, and medical isotopes."
To give Secretary Granholm a look into the future of nuclear physics at Brookhaven Lab, Associate Lab Director for Nuclear and Particle Physics Haiyan Gao discussed the science and benefits of the upcoming Electron-Ion Collider (EIC), a next-generation particle accelerator that will act like a CT scanner for atoms. EIC Project Manager Diane Hatton covered the project's status from the main control room at the Relativistic Heavy Ion Collider (RHIC). The EIC will reuse key infrastructure from RHIC.
Curious about the EIC's benefits beyond enabling remarkable strides in nuclear physics and fundamental science, Secretary Granholm asked Gao about additional applications. "What we're trying to do at the EIC is understand where the proton's magnetization comes from. And in the process of understanding that, it will lead to many potential new applications, like next-generation MRI machines," Gao said.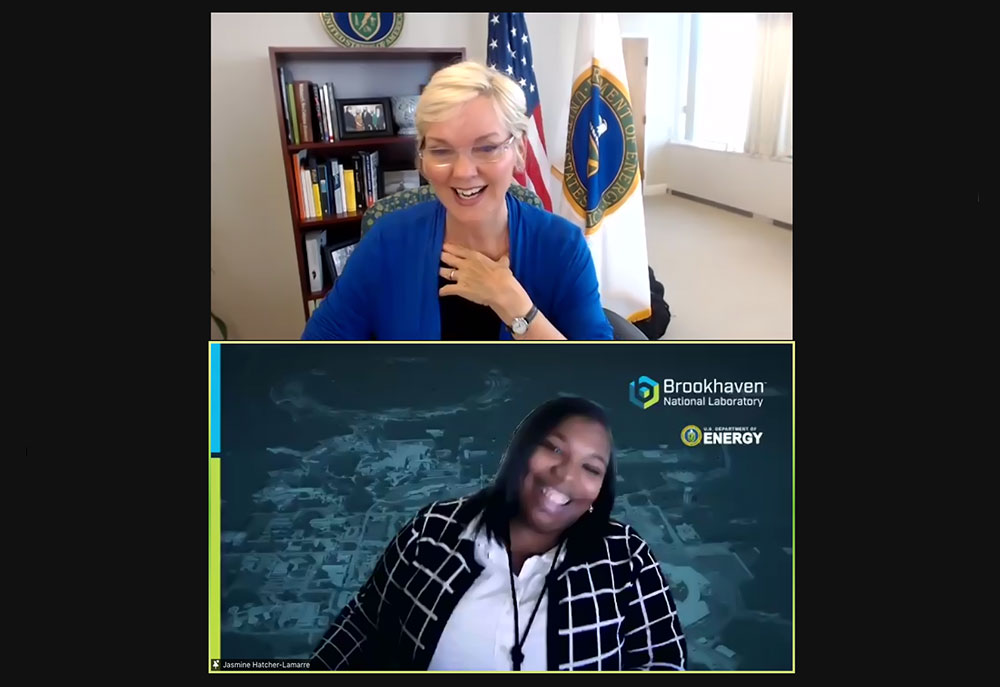 enlarge
During Secretary Granholm's virtual visit to Brookhaven Lab, radiochemist Jasmine Hatcher-Lamarre discussed the Lab's efforts in medical isotope production, as well as her personal experience transitioning from Brookhaven intern to staff scientist.
Cathy Cutler, Director of Brookhaven's Medical Isotope Research & Production Program (MIRP), continued the visit by explaining how Brookhaven's unique particle accelerator complex produces commercially unavailable medical isotopes for diagnosing and treating disease. She showcased the Brookhaven Linac Isotope Producer and was joined by Brookhaven radiochemist Jasmine Hatcher-Lamarre.
"The tools being used to develop the EIC will also enable us to scale up the production of medical isotopes like actinium-225 for clinical applications," Cutler said. Actinium-225 is a medical isotope being produced at Brookhaven Lab that is otherwise not commercially available. It has shown tremendous promise in treating advanced-stage cancers without harming surrounding healthy tissues.
Hatcher-Lamarre and Noel Blackburn, Manager of University Relations & DOE Internship Programs at Brookhaven's Office of Educational Programs, came together to discuss Brookhaven's diversity, equity, and inclusion strategy. Hatcher-Lamarre shared her own experience with the community college internship program at Brookhaven, which led her to become a staff scientist at the Lab. Blackburn highlighted her as shining example of Brookhaven's "grow your own" initiative.
"We aim to provide a springboard for students to increase their academic and career options," Blackburn said. "We leverage our pipeline to further diversify and create a pool of qualified candidates to attain our mission, such as Jasmine."
The next stop on the tour was the National Synchrotron Light Source II (NSLS-II), where scientists use ultrabright x-rays to study the chemical, structural, and electronic makeup of materials down to the atomic scale. NSLS-II Director John Hill showed Secretary Granholm the Soft Inelastic X-ray Scattering (SIX) beamline, which scientists use to study quantum materials, and discussed how NSLS-II is leveraging artificial intelligence to optimize complex experiments. Hill also covered ongoing COVID-19 research being conducted at NSLS-II and Brookhaven as a whole; he is Chair of Brookhaven's COVID-19 Science & Technology Working Group.
Large-scale research facilities like NSLS-II produce substantial amounts of data, so Kerstin Kleese van Dam, Director of the Computational Science Initiative (CSI) at Brookhaven Lab, joined the tour to talk about big data at Brookhaven—collecting, storing, and analyzing it. Kleese van Dam spoke with Secretary Granholm from outside the Lab's newly renovated data center, where the first computers were being installed at that moment.
"This state-of-the-art data center will increase our computing capacity severalfold, and that enables us to continue at the forefront and serve as a catalyst for discovery science—not just at Brookhaven, but with our national and international partners as well," Kleese van Dam said.
Secretary Granholm then visited a battery research lab in the Interdisciplinary Science Department, where Chair Esther Takeuchi discussed advanced energy storage technologies being researched and developed at Brookhaven.
"Historically, batteries were optimized and developed mostly through trial and error—make it, make it a little differently, and maybe it will get better. Now, we have the research tools to directly visualize—as the battery is charging and discharging—what's happening, where it's happening, and when it's happening in a battery, so we have specific information to lead us into the future," Takeuchi said.
Brookhaven's renewable energy research is paired with a robust climate and environmental science program, covered on the tour by department chair Allison McComiskey. McComiskey showed the Secretary photos of a mobile laboratory recently deployed to Manhattan to study unique climate patterns in urban environments.
"Brookhaven has been working in basic climate research for decades," McComiskey said. "Now, we're leveraging that expertise to design better ways to study the mitigation of climate impacts and also implement clean energy in cities, where infrastructure can exacerbate extreme conditions."
The final science stop on the tour brought Secretary Granholm to the Co-Design Center for Quantum Advantage (C2QA), a national QIS research center led by Brookhaven Lab and comprised of several national labs, research centers, universities, and industry partners.
"Brookhaven is leading 23 institutions in C2QA," said James Misewich, Associate Lab Director for Photon and Energy Sciences. "We've put together an interdisciplinary team to advance noise-tolerant solutions for quantum computing. Our team brings together a highly diverse set of people from materials science, chemistry, computer science, and quantum computing who will work together."
Eden Figueroa, quantum systems group leader in the Lab's Instrumentation Division, also discussed the Lab's quantum network testbed, a joint initiative with Stony Brook University. It is currently the longest quantum network in the United States and the team plans to extend it to New York City by next year.
Secretary Granholm's virtual tour ended at Discovery Park, a new vision for the gateway to Brookhaven Lab.
"The landscape of this laboratory has changed dramatically over the past decade, and it's going to continue to do so over the coming decade. The centerpiece of our campus strategy focuses on forging new and innovative public-private partnerships, with Discovery Park being a catalyst for our campus of the future," said Jack Anderson, Deputy Director for Operations. Lab leadership envisions Discovery Park as a 60-acre site encompassing new resources, facilities, and conveniences for both staff and the public. The Laboratory expects to break ground on the first building in Discovery Park—the Science User Support Center—later this year.
"What an amazing tour, and I know I probably only saw the tip of the iceberg," Secretary Granholm said. "I love all the visionary, future-looking plans that Brookhaven has coming up but I also really appreciate the Lab's history. This administration is betting big on research and development, so thank you for giving me inspiration. Let's continue to go forward and change the world."
Brookhaven National Laboratory is supported by the U.S. Department of Energy's Office of Science. The Office of Science is the single largest supporter of basic research in the physical sciences in the United States and is working to address some of the most pressing challenges of our time. For more information, visit https://energy.gov/science.
Follow @BrookhavenLab on Twitter or find us on Facebook.
2021-18984 | INT/EXT | Newsroom