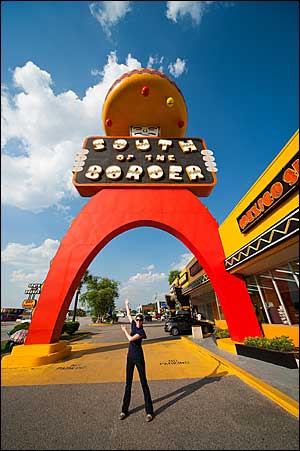 Here's my submission from last year, taken while on a pit stop on a New York-to-Florida road trip. Those of you who've made the trip might recognize this colorful roadside attraction, South of the Border, in Dillon, South Carolina. Advertised by some 100 billboards on the approaching highway, the tourist stop includes restaurants, shops, gas stations, a motel, a sombrero-laden observation tower, and even a small amusement park. Pictured here is Pedro, the mascot of the complex, who stands 97 feet tall and is touted as the "largest freestanding sign east of the Mississippi."
Going somewhere cool this summer? Or maybe just cooling off in your backyard? Share a piece of your vacation with us through your camera. Now through Wednesday, September 7, send us your best photographs and accompanying captions. We'll post the top three shots in the October edition of eNews.
Please e-mail your digital photos to:

Kendra Snyder

ksnyder@bnl.gov

631-344-8191
Happy photo-taking!
— Kendra Snyder, eNews Editor