This is the first in a series of occasional articles featuring groups from outside Photon Sciences who are providing valuable services to the directorate.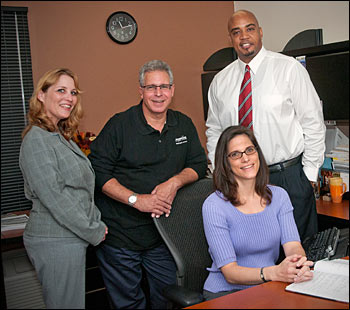 The members of the Human Resources Division who directly support the PS Directorate include, from left, Deborah Lange, Peter Esposito, Joanna Hall, and Terrence Buck.
The dedicated human resources staff assigned to the Photon Sciences Directorate has quite the workload these days. With the directorate growing before our eyes, new jobs are steadily being created. So far this fiscal year, the group has processed more than 1,500 applications for 42 jobs!
At this moment, 45 jobs are available, the most the directorate has ever offered at one time. Thirty-five are regular positions and 10 are "job-shopper" openings, which are temporary assignments that are filled by people employed by staffing agencies.
The members of the Human Resources Division who directly support the PS Directorate include manager Joanna Hall, recruiting specialists Peter Esposito and Terrence Buck, and Deborah Lange, who helps with recruiting and performs general HR functions. The group also relies on staff in the central HR office, such as Diana Hubert, who is the Lab's primary contact for job-shopper positions.
On any given day, each recruiter is handling about 15 open jobs, each drawing an average of 35 applications but occasionally upwards of 75, depending on the position. Every application must be reviewed in timely manner, which, with so many open jobs, may require the recruiter to evaluate 20 applications every couple of days.
Applications that meet certain minimum requirements are forwarded to the position's hiring manager to determine whether those candidates should be interviewed. As most positions require candidates to speak with several people, interviews typically take place over one or two days.
But arranging them is no small feat. With the directorate so busy, it is not easy to coordinate the hiring managers' schedules so that candidates can speak to each one within a day or two. So far in FY 2011, HR has set up more than 125 interviews, arranged by administrative support staff Leisa McGee and Betsy Hanson, who take care of interview scheduling and the related travel plans.
In addition to handling applications and interviews, and the back-and-forth communication with hiring managers that the process requires, the group is a valuable resource for current PS employees. With offices in buildings 817, 830M, and 725, they are the first (and often only) stop for people who have questions or concerns that are HR-related, such as employee relations issues or how promotions are determined.
"We're located in your building or nearby, which is convenient," says Hall. "You can stop in quickly as you're walking down the hallway, and we can be your single point of contact for most HR-related matters."
From the PS homepage, a link to the HR employment page is under "About" in the navigation bar near the top of the page.
— Laura Mgrdichian, Photon Sciences Science Writer