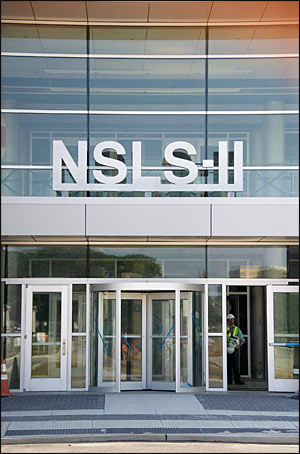 With hard hats in hand, Ben Seidman waits for a tour group, the first to see the new NSLS-II sign installed above the lobby of the ring building.
The sign is up.
It happened with no fanfare on an ordinary day. Many never noticed. Those who did were startled by its sudden appearance. On September 21, with NSLS-II construction about 60 percent complete, official signage was mounted on the NSLS-II ring building.
Precision Signs, headquartered in Amityville, New York, manufactured the sign. Ove Dyling, Assistant Director for Design Management in the Facilities Division, said the material is aluminum, so it will never rust or tarnish. "It was also given a fine satin finish and then clear coated," he added.
Dyling said the sign measures a generous 160 inches by 42 inches and that the individual letters are 4 inches deep, making it big enough to be read from NSLS, diagonally across Brookhaven Avenue.
HDR, Inc., designed the sign to complement the ring building and reinforce the high-tech, cutting-edge science to come.
- Mona S. Rowe, Photon Sciences Communications Manager