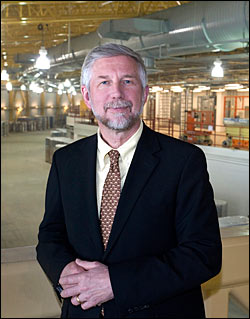 As we all know, fiscal year 2012 for the federal government began on a continuing resolution. With Congressional passage of a final budget, we now have an FY12 budget of $36M for NSLS operations. That is down from the $38.5M we received in FY11.
Since we are already more than a quarter of the way through the fiscal year, we have to accommodate by extending shutdowns for NSLS operations. This will give us an overall schedule of 4,800 hours of operating time. I regret the impact this reduction will have on our user community.
NSLS accounts for about one quarter of DOE's synchrotron capacity in the U.S., and the research it supports is outstanding. The second article in this issue of eNews, for example, announces Department of Energy grant renewals for two NSLS user teams. Work by one of these teams – the geosciences group on X26A – was also highlighted in the December 2011 issue of Chemical and Engineering News, which does an annual selection of "superlative achievements." See page 14 for the piece on "Nanomaterials in the Food Chain."
It is difficult for many of us to accept that, after three decades of operations, NSLS will be shuttered in 2014. At the same time, we are excited about the advances that will be possible with NSLS-II and are looking forward to the start of operations.
Developing NSLS-II to have as broad a range of capabilities and as much capacity to support users as the existing NSLS will take a while. The mix of science that NSLS-II supports will evolve over time as beamlines are developed and brought into operation.
Nevertheless, the 21 independent endstations on 18 beamlines already under construction at NSLS-II will provide some dramatic new capabilities that go well beyond anything available at NSLS. Examples of the new capabilities include x-ray nanoprobes, measurements of fast dynamics using coherent x-rays, high energy resolution measurements of correlated electron materials, and many others.
We have put a high priority on developing these world-leading capabilities at NSLS-II. As a result, 17 of the 18 beamlines currently under construction use insertion devices to achieve the highest possible brightness and/or flux. Fully 59 percent of the available straight sections are already allocated to beamlines that are funded and under construction by either the NSLS-II, NEXT, ABBIX, or Type II Projects.
We look forward to working with the user community to identify and develop the exciting science that will be done in the first experiments at these beamlines. Our goal is to achieve a fast ramp-up of the science program at NSLS-II by having key experiments fully developed and ready for beam when beamline commissioning begins in FY14.
We expect that future funding opportunities will enable additional beamlines to be developed. For example, we are hopeful that a NEXT-II Project will fund the development of six more insertion device beamlines in the coming years, increasing the number of filled straight sections to 81 percent. So we are fast approaching the point of having developed most of the available straight sections.
At the same time, only one bending-magnet/three-pole-wiggler beamline is under development so far and there is much still to be done to develop more of these. Bending-magnet/three-pole-wiggler beamlines can be very productive, and they also provide capacity for those experiments that don't require the full performance of an insertion-device beamline. Many such beamlines have been proposed by the community and approved for development, but we have had to defer work on them until sufficient funds become available.
In 2008, we held a very successful series of scientific planning workshops. Workshop participants identified key scientific drivers in their field, what approaches should be taken, and what technical capabilities are required to address them. Many of the workshops produced white papers that guided the subsequent development of beamline development proposals. And many of the beamlines conceived in those workshops and the follow-up activities they spawned are now under development.
Much has changed since 2008. NSLS-II is nearing completion, NSLS is nearing closure, and the beamlines that will exist in the early years of NSLS-II are known. It is timely to reassess the scientific challenges and opportunities in the context of these developments. What are the most exciting experiments to be done first at NSLS-II and what needs to be done to get them ready for beam? Given the established portfolio of beamlines under development, what should our priorities be in selecting beamlines to fill out the remaining straight sections, and which bending-magnet/three-pole-wiggler beamlines are the highest priority to develop first, if funding becomes available?
To help answer these questions, we plan to host a series of workshops this year with the following goals:
Update the user community on the progress and plans for NSLS-II (including beamline capabilities and the schedule for transition to operations)
Reassess the scientific challenges and opportunities for which NSLS-II is best suited
Identify and support the development of key first experiments and facilitate the formation of teams based on peer-reviewed proposals
Establish priorities for future beamline development
We expect that these workshops will be followed by a call for proposals for "first experiments" this coming fall.
These plans were well received when we discussed them with the Photon Sciences Users' Executive Committee (UEC) at their meeting earlier this month, and we look forward to working with the UEC in organizing the workshops.