Anyone in the world can watch construction progress on NSLS-II by clicking on the construction-cams icon on the Photon Sciences homepage.
But those externally mounted cameras do not look inside the building.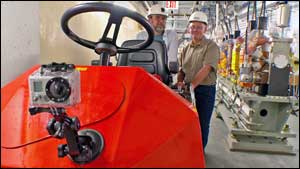 Alex Reben's POV (point-of-view) camera is mounted on the front of an electric cart. Reben (left) and Frank Lincoln stand in the rear.
"I had this idea to get a POV sports camera – the same kind that is used by people while skydiving, surfing, etc. – and mount it on a bicycle and ride around the tunnel to record the magnet progress," said Alex Reben, the Lab's videographer. On his first try, he found the bike ride too bumpy for the camera.
"Frank Lincoln and I worked together on this," said Reben. Lincoln supervises the mechanical installation group and suggested using the electric cart that he uses to get around the ring.
You can see the set up that Reben and Lincoln devised. They mounted the camera on the front of the cart and Lincoln took a drive around the tunnel, starting in pentant 1 and going full circle clockwise in the same direction that the electrons will travel through the magnets when the accelerator is operating.
The ring is about a half-mile around. "For the final video, I sped it up so a ten-minute ride can be viewed in about two minutes," Reben added.
Now watch the entire video, taken on April 3, 2012. Then, the tunnel contained 31 magnet girders. Installed at the rate of about two a week, according to Lincoln, the tunnel now holds 40 girders. When installation is complete a little over a year from now, the tunnel will be filled with 150 magnet girders.