By Steve Dierker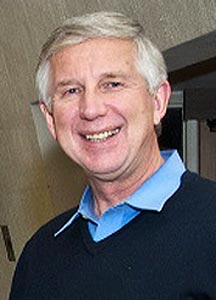 Steve Dierker
I was delighted to participate in this month's safety celebration with E.W. Howell in laboratory-office building (LOB) 3 at the National Synchrotron Light Source II (NSLS-II). Many Photon Sciences (PS) Directorate staff, as well as others from around Brookhaven Lab, gathered there on March 15 to recognize the company's achievement of no lost workdays due to injury in 300,000 person-hours while constructing the LOBs.
It was December 2010 when Howell broke ground on the first LOB for the new light source, under a contract to provide 124,000 square feet of lab and office space, as well as a satellite building for the hard x-ray nanoprobe (HXN) beamline. Two years later, in December 2012, the job was completed—done well and done safely!
In his speech to the assembled crowd, Harry Hansen, Project Executive for E.W. Howell, acknowledged the work of many, recognizing in particular Steve Hoey, Townsend Anschutz, Ken Krasner (recently retired from PS), Reddy Chilakala, and the U.S. Department of Energy's Dick Diem. He called them out of the audience individually and did the same for the field team from E.W. Howell. Interim Laboratory Director Doon Gibbs then went down the line and shook hands with everyone. It was a special moment.
I was especially struck by what Harry said about E.W. Howell's decision to enhance safety on the LOB construction project by focusing on the individual for personal accountability. He mentioned stand-downs, daily meetings, pre-task meetings, weekly subcontractor meetings, training classes, process hazards reviews, and safety inspections by both the Lab and E.W. Howell. I agree with Harry that this huge commitment on the part of so many individuals is what gave us a safe job site.
Doon followed Harry at the podium and talked about safety as a core value at Brookhaven. I think back to the big construction sign we put up for the NSLS-II groundbreaking in 2009. It proclaims:
"Safety First"
Today, we are at the end of conventional construction, and I thank Marty Fallier and his hard-working team in the PS Facilities Division for their critical role in managing the contracts with E.W. Howell for the LOBs and satellite building and with Torcon for the ring building.
Now, we are fully engaged in constructing the accelerator and assembling experimental components for NSLS-II. Let's keep safety at the forefront of our thinking, planning, and doing.
— Steve Dierker
Associate Laboratory Director, Photon Sciences
dierker@bnl.gov