Instrumentation & Facilities
July 12, 2022
NWQBench: A Scalable Quantum Proxy Application Suite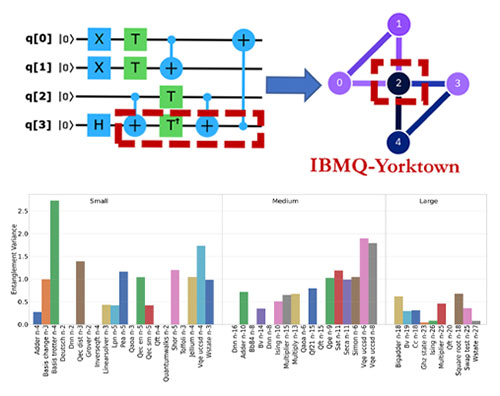 A benchmark circuit mapping to superconducting quantum devices with respect to entanglement variance
Authors: A. Li, S. Stein, S. Krishnamoorthy, J. Ang,
arXiv: 2005.13018.
Achievement in Quantum Information Science (QIS) Science and Technology Innovation Chain
Developed a scalable Quantum Proxy Application Suite (IPID 32218) for benchmarking noisy intermediate-scale (NISQ) devices, transpilers and classical simulators.
Significance and Impact
Provides a tool for characterizing features of NISQ devices; assists development of performance metrics to estimate the compute capability of quantum devices at the application level
Details
Proxy applications represent quantum numerics, chemistry, linear algebra, optimization, machine learning, etc.
Application templates are configurable for circuit width and depth
Realized in Qiskit (IBM), also mapped to OpenQASM, Q#/QDK (Microsoft), PyQuil (Rigetti), and Cirq (Google)
New proposed metrics: Gate Density, Retention Lifespan, Measurement Density, Entanglement Variance
Our opensource contribution to the community is envisioned to foster collaborations that can bridge across the DOE/SC NQIS Research Centers.
Installation of a High Cooling Capacity Bluefors Dilution Refrigerator at Yale University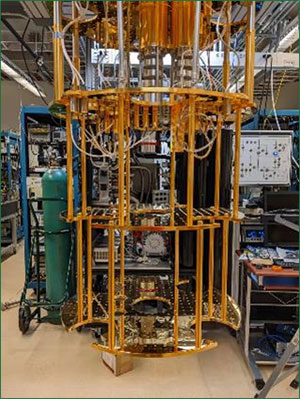 Hong Tang, Principal Investigator, C2QA
Significance and Impact
This is an important component of the fridge-to-fridge quantum link.
Details
The cryostat is custom designed to accommodate simultaneous operation of photonic and microwave circuits, which requires high cooling power
Mixing chamber 500mm, with base temperature reaching 8.7mK
Fiber-optics and quantum limited amplifiers installation in progress
2022-20711 | INT/EXT | Newsroom