Green Transportation
Smart commuting initiatives help to reduce the energy used by employees, guests, and visitors when traveling to, from, and within the Brookhaven Lab campus.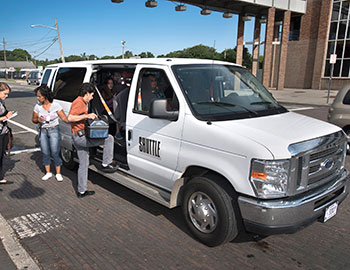 Free On-site Shuttle
The Laboratory offers a variety of shuttle van services for employees and visiting guests, including an on-site courtesy shuttle, which provides door-to-door transportation service during working hours around Brookhaven Lab's 5,300-acre site. Also, a shuttle makes two trips each day during the work week, taking employees and visitors to and from the Ronkonkoma LIRR train station, more than 15 miles away. For visitors who live in on-site housing, the Lab offers a shuttle that travels twice each week to a local shopping center.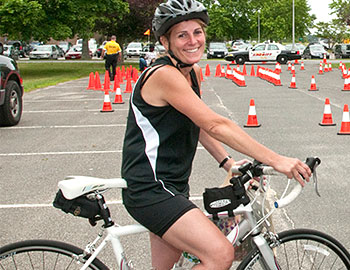 Bike-friendly Campus
The Lab's Brookhaven Employees Recreation Association (BERA) manages a Borrow-A-Bike program. The program is designed for employees and students who are staying on-site and have no vehicle for transportation. Bicycles are available on a first-come, first-served basis. In 2009, a new bike entrance was installed to provide bicycle commuters with a safer alternative for entering the Lab via the North Gate. In 2014, the Lab initiated a pilot program to allow safe entry by bicyclists on the east side of the site and easier access via the North and Main Gates. And our new LEED buildings include changing rooms and showers to accommodate those who bike to work.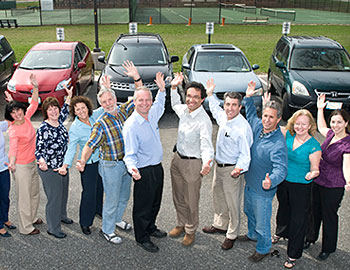 RideShare Program
Ride-sharing saves money, conserves non-renewable energy resources, and reduces Lab commuter greenhouse gas emissions. Brookhaven Lab encourages employees to sign-up for car or vanpools and offers a "guaranteed ride service" that will get them a ride home should they have to work late or if the driver of their carpool/vanpool had to leave early. The Lab is a member of the 511NYRideshare Program and won the 2007 Commuter Choice Regional Leadership Award.