Reminder: Send in Your Vacation Photos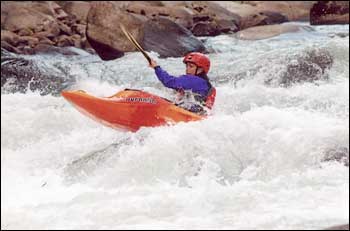 Photon Sciences Communications Manager Mona Rowe kayaks on the Youghiogheny River in Pennsylvania. Rowe, who first started white-water kayaking with her husband while in graduate school, gave up paddling after moving to flat-water Long Island. In recent years, though, they return most summers for a trip on the Lower Yough, a seven-mile stretch of river with 13 different rapids.
As the summertime ticks away so does your chance to enter our vacation photo contest. Don't forget to send us your best shots (with captions) by Wednesday, September 7. The top three photos will be posted in the October edition of eNews. Whether you're taking in some sun at the local beaches or ripping through the rapids of Pennsylvania (like Photon Sciences Communications Manager Mona Rowe did last year – see photo), we hope you're having a great summer.
Please e-mail your digital photos to:

Kendra Snyder

ksnyder@bnl.gov

631-344-8191