The Interdisciplinary Building (ISB) is an 87,700 square-foot facility where researchers with different scientific specialties team up to take on significant national energy challenges.
It was awarded a LEED gold rating by the U.S. Green Building Council in 2013. To attain its LEED-gold certification, the building met internationally recognized standards defined by the Council, which include conserving energy; reducing water consumption; occupying a location previously developed to minimize environmental impacts; using certified, environmentally sustainable and recycled materials from sources less than 500 miles from the construction site to minimize transportation-related greenhouse gas emissions; and maintaining optimal indoor environments for building occupants. The ISB site was designated as a brownfield site, which was remediated for redevelopment under this project.
The ISB employs a number of energy saving and environmentally friendly strategies. A white (cool) roof, insulation, and "low-e" high-performance window coatings reflect sunlight to significantly reduce heat and air-conditioning costs by reflecting the heat to the greatest side of concentration. A heat-recovery system, energy-efficient fume hoods, vacancy and photo motion-sensor light controllers, low-flow toilets and other fixtures, storm water collection chambers, and many additional components contribute to a 37 percent increase in energy efficiency compared to conventional designs and a 55 percent reduction in potable water use. Exceeding federal mandates and Department of Energy directives for energy efficiency, the overall result is a cost avoidance of 29 percent when compared to benchmark laboratory designs.
In addition to energy and cost-saving strategies, such as heat recovery, and high-efficiency lighting systems and laboratory equipment, the facility was built with certified environmentally-sustainable wood, recycled materials, and materials from vendors within the region to reduce the building's overall carbon footprint. The ISB design also includes strategies to conserve water.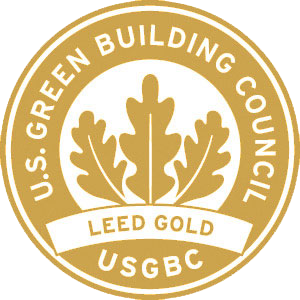 Sustainable principles and environmental considerations guided the design concepts to ensure that the Interdisciplinary Science Building would be a high-performance facility for Brookhaven researchers working to reduce the carbon footprint of our energy economy