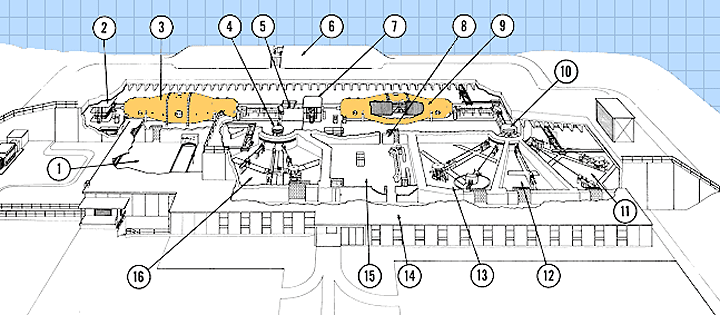 Shown in the above cut-away view of the Tandem Van de Graaff facility are the two Van de Graaff electrostatic accelerators (3) and (9) each independently capable of accelerating a wide variety of ion species from external ion sources (2) and (7) through beam switching magnets (4) and (10) into target rooms (11), (12), (13) and (16). Highest particle energies are achieved in three-stage operation with the first accelerator (3) injecting energetic negative ions through the connecting link (5) directly into the second accelerator (9). The accelerators are operated from the centrally located control room (15) which has direct access to the accelerator rooms through one of the shielding doors (8). The mechanical equipment room (1) contains the pumps and compressors necessary to transfer insulating gas from storage tanks (6) to each accelerator pressure vessel. Laboratory and office space (14) is available for resident and visiting scientific personnel.
Traditionally used for industrial and space-related applications, the Tandem Van de Graaff's (TVDG) rapid energy and ion changes, well-controlled intensities, high-quality beams, and extraordinary reliability make this a very versatile and productive experimental tool that enables research to be conducted with high precision and with great detail.
The Tandem facility consists of two model MP electrostatic accelerators, their associated beam transport lines, experimental areas, and test facilities. The TVDG complex was originally constructed by Robert J. Van de Graaff's High Voltage Engineering Corporation (HVEC) in the mid-1960s and has undergone upgrades and improvements ever since. A noteworthy improvement was the addition of a Pelletron charging system to the MP7 accelerator in 1977 and to the MP6 accelerator in 1980, which improved voltage stability tenfold in both accelerators.
Both accelerators (MP-6 and MP-7) have been upgraded to run at a maximum terminal voltage of 15 MV and are also capable of high-intensity, pulsed-beam operation. Both accelerators are currently in service providing beam for Single Event Upset (SEU) users. The Tandem can support Brookhaven's accelerator complex – which includes the Alternating Gradient synchrotron (AGS) Booster, the AGS, the Relativistic Heavy Ion Collider (RHIC) and the NASA Space Radiation Laboratory (NSRL) – and the outside user program simultaneously. The Tandem runs SEU, radiobiology research, submicron filter material production, and other applied programs year round.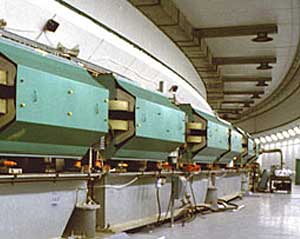 Alternating Gradient Synchrotron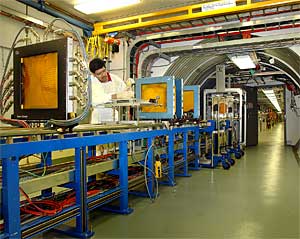 NASA Space Radiation Laboratory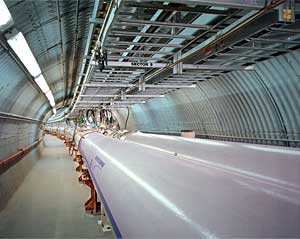 Relativistic Heavy Ion Collider
Heavy Ion Research
Nuclear physics research began at the Tandem in 1970 and since 1986 the Tandem's MP-7 accelerator has served as the heavy ion injector for Brookhaven synchrotron facilities. These synchrotrons are host to a number of nuclear physics and heavy ion experiments at relativistic energies.
The NSRL at Brookhaven studies the biological effects of relativistic heavy ions. This radiobiology research program is related to the investigation of space radiation on humans and is particularly important for the planning of future, long-term, deep-space flights.