Information Technology Division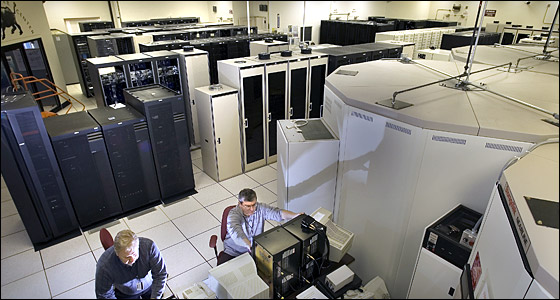 On the north side of Brookhaven Avenue, Bldg. 515 is the headquarters for the Laboratory's Information Technology Division. Not only is this where analysts help BNLers with nearly all things computer-related, it is home to the RHIC/ATLAS Computing Facility. This facility provides computing services for experiments at RHIC, as well as for U.S.-based collaborators in the ATLAS experiment at the Large Hadron Collider at CERN, and collaborators with the Large Synoptic Survey Telescope, to be built in Chile. The building is also home to the New York Blue supercomputer, which is managed through a cooperative effort between BNL and Stony Brook University. New York Blue provides computing power for research in biology, medicine, materials science, nanoscience, renewable energy, climate science, finance, and technology.
Interdisciplinary Science Building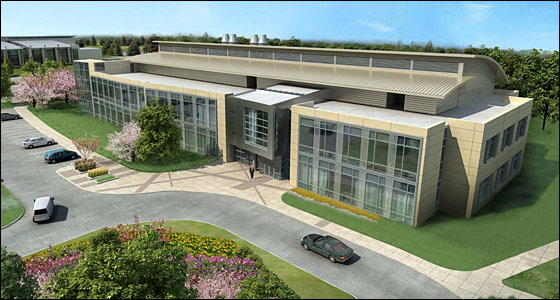 On the south side of Brookhaven Avenue, work is under way on the new Interdisciplinary Science Building, or ISB. This energy-efficient and environmentally sustainable building will provide researchers from industry, universities, Brookhaven, and other national laboratories with a single location where they can join forces in research and development on renewable energy.
The ISB is scheduled to open in 2012. Its researchers will benefit from the complementary tools located on the same avenue of innovation, including the CFN, New York Blue, NSLS, and the future NSLS-II.
Medical Research Reactor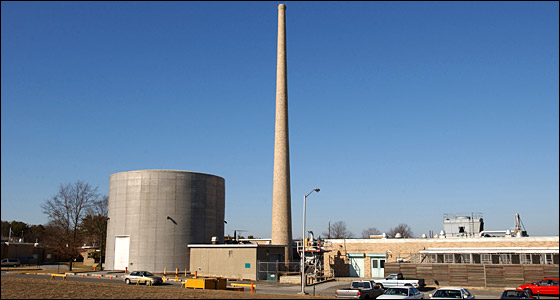 Before you move to the next stop on this tour, look beyond the ISB construction site up above the tree line. There, you can see the stack from Brookhaven's smallest reactor, the Brookhaven Medical Research Reactor, which operated from 1959 to 2000. Located at the Medical Research Center next to the Biology Department, it was the first reactor in the nation to be constructed specifically for medical research.