Using CFN Facilities
CFN facilities are available free of charge to scientists from universities, industry, and national laboratories worldwide, for non-proprietary nanoscience research projects. Access to the facilities is granted to external users through a peer-reviewed proposal system.
Proposals are submitted electronically and reviewed and rated by an external Proposal Review Panel. Proposals must include the specific equipment requested, the scientific impact of the research project, and a description of the research to be conducted at the CFN. For an accepted proposal, the actual schedule for work at the CFN is jointly made by the leader(s) of the requested facility (or facilities), and the proposal's principal investigator.
User Registration
All researchers coming to the CFN to work at a facility must have an active appointment with Brookhaven National Laboratory. This requires online registration and approval. Early registration is strongly suggested as it can take up to 120 days to obtain approvals.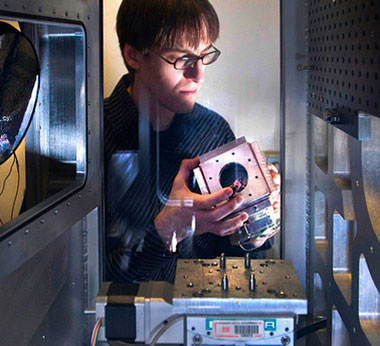 ---
Modes of Access
General Users are researchers or research group that use the CFN's facilities for non-proprietary research, after the submission of a proposal and its positive evaluation by an external Proposal Review Panel (PRP).
Partner Users are General users who also enhance the facility capabilities and/or contribute to the Center operation. They typically help develop instrumentation in some manner, either by bringing external financial and/or intellectual capital into the development of the facility. These contributions must be made available to the General Users and, therefore, benefit the overall User Program as well as the facility. In recognition of their investment, Partner Users are provided negotiated access to one or more capabilities over a period of several years.
Rapid Access: Users who feel that the timeliness of their research may be negatively affected by the length of the whole proposal-review process can request Rapid Access. Proposals submitted for rapid access are reviewed and approved by the CFN Director, technically assisted, if necessary, by pertinent group or facility leaders. Besides being feasible at the CFN and scientifically important, proposals being considered for Rapid Access must include a justification of the time-sensitive nature of the project.
Submitting Your Proposal
Before submitting a proposal, prospective users are encouraged to contact and discuss their proposals with the appropriate CFN facility leader(s). Proposals are submitted for any of the three annual proposal cycles before the deadlines of January 31, May 31, and September 30. Accepted proposals are valid for two years, but requests for facility time are made on a cycle-by-cycle basis.
All user proposals undergo a feasibility/safety review by CFN staff. The prospective user is advised of any concerns/issues and offered the opportunity to revise the proposal, if appropriate, to resolve those issues/concerns.
Note that the CFN has three deadlines annually for the submission of a New User Proposal or a Renewal Proposal: January 31, May 31, and September 30. The CFN cannot accommodate late submissions for New User Proposals and Renewal User Proposals. Full deadline info.
:: User Proposal System