Kindergarten through 12th Grade
Due to the ongoing effects of the COVID-19 pandemic, Brookhaven Lab has cancelled all on-site Science Learning Center programming, including Discovery Activities, Exploration Labs, contests, and outreach events, for the remaining 2020 calendar year. During this time, we are offering new virtual and remote programming to advance our mission of developing the next generation STEM workforce. Please review our update for the 2020—2021 field trip program and our Science at Home website for new online activities. We will be reviewing our onsite programming again at that time. Thank you for your understanding.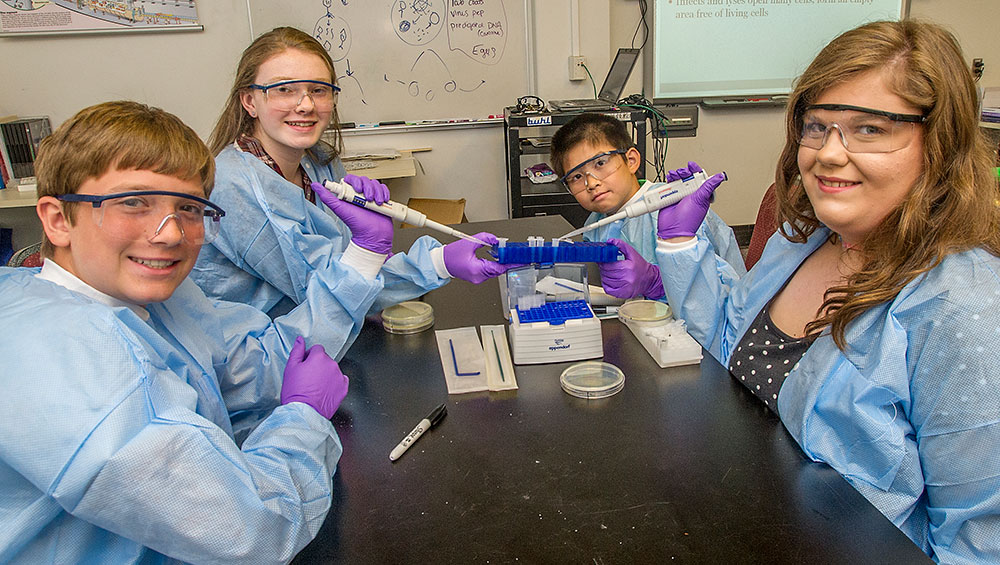 Brookhaven National Laboratory provides opportunities to drive excitement for K-12 students and educators in science, technology, engineering and mathematics (STEM) by exploring Brookhaven Lab's research initiatives.
Academic year programs include:
Summer enrichment programs are available for upper elementary through advanced students, from the weeklong Summer Science Explorations program to the summer-long High School Research Program.
Educators can hone their own science research skills by becoming a user of the Lab's scientific research facilities through the Student Partnerships for Advanced Research and Knowledge program (SPARK) or taking advantage of other professional development sessions offered annually.
Programs for Students
Contests
Field Trips
Workshops
Summer Programs
Programs for Teachers
Professional Development
Workshops
Open Space Stewardship Program

(OSSP)

Students in grades K through 12 participate in environmental research on community property owned by either a public or private agency.

SCI-ED Day

Spend the day at Brookhaven National Laboratory for a professional development opportunity where you can meet scientists, see facilities, and discover the latest and greatest scientific innovations. Learn how to engage students at every level by incorporating current research topics into your curriculum. Educators will choose one workshop for the day that suits their grade level and/or interest.

Student Partnerships for Advanced Research and Knowledge

(SPARK)

Allows high school students and their science educators to become visiting researchers to Brookhaven National Laboratory's scientific facilities— just like the thousands of scientific researchers who use them each year. Participants in this year-round program will conduct hypothesis-driven research through collaborations with scientific experts at Brookhaven Lab
Field Trips
Discovery Activities

Field trip program for students in grades 1-4 at the Science Learning Center

Exploration Labs

Hands-on laboratory-based experiences for students in grades 5-12
---